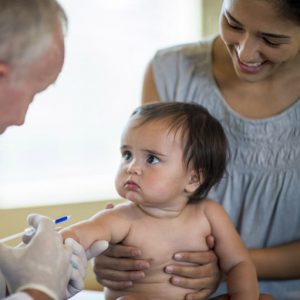 The 2017-2018 Influenza season was deemed a high severity season by the Centers for Disease Control & Prevention (CDC).  This designation was based on the high level of outpatient clinic and emergency department influenza-like illness visits, high influenza-related hospitalization rates, and elevated and geographically widespread influenza activity across the country over an extended period.  The high severity classification was attributed to each age group (children and adolescents, adults, and older adults) which, according to retrospective analysis as far back as the 2003-2004 season, is the first time each age group has met this classification status in the same season.1
Of particular note, influenza-associated pediatric mortality totaled 171 as of June 1, 2018.   As of May 19, 2018, Georgia contributed 4 deaths to this total.  All were in the range of 5-17 years of age.2   Approximately half of those 171 deaths occurred in otherwise healthy children.  Since influenza-associated pediatric mortality became a national notifiable condition in 2004, the total number of influenza-associated pediatric deaths per season has ranged from 37 (2011-2012 season) to 171 (2012-2013 season).  The 2009 pandemic in which 358 pediatric deaths were reported to the CDC was excluded from these counts.1 
Data such as these have moved the CDC as well as the American Academy of Pediatrics (AAP) to recommend that all children 6 months of age and older should receive a flu vaccination each year along with pregnant women and caregivers of infants (to aid in their protection).3  The severity of last season and the need to improve influenza vaccine coverage rates and prepare for the upcoming season, led the Georgia Chapter of the AAP to conduct a survey to retroactively assess the 2017-2018 season and garner insights for improvement.
The survey was sent in July to the Chapter membership and Vaccine for Children (VFC) providers in Georgia (N=2,289).  One hundred and forty-three (143) responses were captured for a 6% return rate.  The results can be viewed here.  Here are some highlights of the results.
A little over half (54%) felt the absence of FluMist had no effect on influenza vaccine uptake; 37% felt the effect was 10% or less.
Most (59%) of those who received FluMist in the past did not refuse the influenza vaccine by injection.
Thirty-six percent (36%) planned to administer FluMist this season, while 33% responded they were unsure. Less than half (41%) who planned to administer FluMist had made an order through VFC or a private vendor.
Most (52%) started administering influenza vaccine in September. Most ended administering influenza vaccine in April (31%) followed by March (27%) and May (22%).
Sixty-five percent (65%) responded that less than a quarter of their patients refused the influenza vaccine when offered. The most common reason for refusal was a belief that the vaccine would cause them to get sick or give them the flu followed by having never had the flu – so it wasn't needed, and it doesn't work.
Most patients received their influenza vaccine in a physician's office. 82% responded that less than a quarter of their patients received the influenza vaccine in retail clinics, and 57% responded that less than a quarter of their patients received their influenza vaccine in schools.
Three fourths (76%) responded that less than half of their patients received an influenza diagnosis.
Close to 60% (57%) utilized patient and/or family history, signs and symptoms, and laboratory findings (all of these) to diagnose influenza.
Ninety-one percent (91%) prescribed oseltamivir/Tamiflu once the diagnosis was made. 64% reported parents had problems filling the prescription – reason given most, it was out-of-stock followed by the cost.
Over half responded that 50-75% of their patients did not return for the second influenza vaccination as indicated.
Thirty-five percent (35%) of survey respondents provided influenza vaccination outside of typical office hours (evenings or weekends). Those that did commented the extra days or hours provided, for the most part, were successful in increasing rates.
The most common strategies used to target influenza vaccine response were giving a personal healthcare provider recommendation (31%) and displaying posters in the office (22%).
The most common suggestions for the upcoming season and lessons learned centered around:
Ensuring there is enough vaccine and Tamiflu for demand;
Utilizing a coordinated multimedia campaign including all facets of mass communication (TV, radio, websites, social media, posters, pamphlets, etc.);
Starting early in the season to promote and give influenza vaccination;
Providing more education to parents and the public in general to debunk the myths and misconceptions about the influenza vaccine;
Making influenza vaccination mandatory for certain populations;
Providing a strong healthcare provider recommendation and vaccinating everyone available during a visit; and
Ensuring the vaccine is a better match this season for the predominant influenza strains.
Overwhelmingly, respondents to the survey indicated they had no problems during the 2017-2018 season with placing and receiving VFC influenza vaccine orders.  For those that had an issue, these were the most common reasons cited:
Received a limited supply (less than requested).
Received supplies late.
Did not receive or received limited supply of vaccine for patients less than 3 years-old.
Limited or delayed supplies for these practices led to missed opportunities to vaccinate patients as needed or conduct Flu Clinics in a timely manner.
One comment which follows summarized succinctly the role of the AAP in promoting the health and well-being of children as well as the purpose of this survey.  "Influenza can be devastating and continued efforts to ensure patients and families seek yearly vaccination should be a priority by every healthcare provider."
The Georgia Chapter of the AAP would like to thank those who responded to the survey.  Your input has been vital!  Please take time to review the survey results and determine what they may mean for your practice and how you can utilize them to prepare for and improve on this season's response.
Cordia Starling, EdD, MS, BSN, RN
EPIC Immunization Program Director
Georgia Chapter-AAP
Harry Keyserling, MD, FAAP
Chair, Chapter Committee on Infectious Disease
Article Reviewer
1Garten, R., Blanton, L., Elal, A., et. al. (2018). Update: Influenza activity in the United States During the 2017-18 season and composition of the 2018-19 influenza vaccine. MMWR Morb Mortal Wkly Rep 2018, 67, 634-642. DOI: http://dx.doi.org/10.15585/mmwr.mm6722a4