Find Your State Legislator
2018 Georgia General Assembly
August 9, 2018……LEGISLATIVE NEWS!……Rep. John Carson (R-Marietta) has been named the Georgia AAP Legislator of the Year. He was given the award for his "distracted driving bill" HB 673. The bill, now law, prohibits the use of a cell phone in your hand, with certain exceptions, while driving. The bill was prompted by the death of 5 Georgia Southern nursing student in an accident on I-20 when a truck driver, using his phone at the time, smashed into their car as they were headed to Savannah for a rotation. Mr. Carson will receive his award at the Georgia AAP Awards Luncheon as part of their Fall Conference, on Friday, Sept. 14, at the Cobb Galleria Centre, Atlanta. Congratulation Rep. Carson and thank you.
The 2018 Georgia General Assembly ended on March 29. It was the now typical results of some good, some bad for children. Two positives: the passage of a reform of Georgia's adoption laws, the first in 2 decades. And the passage of a "distracted driving" bill which will prohibit the use of a cell phone with your hands while driving. We also were pleased that SB 351 was defeated. This would have given NP's the right to independent practice in certain areas of the state. Finally, another positive highlight was the passage of a bill that expanded the coverage benefits for ASD in commercial insurance plans up to age 21. Below is a list of all the major bills we followed in 2018 and their final status.
ADOPTION — HB 159 by Rep. Bert Reeves (R-Marietta) introduced legislation in the 2017 session to substantially revise Georgia's adoption laws. This issue has received widespread coverage in the media. There are two issues at play: the right to allow parents to assign guardianship of their children to a person or organization without any government oversight, and a provision sought by some to allow religious affiliated adoption agencies to reject same-sex couples on belief grounds. Passed and signed by the Governor on Monday, March 5th.
APRN SCOPE OF PRACTICE — SB 351 by Sen. Renee Unterman (R-Buford). It would have allowed APRN's to order imaging without it being a "life threatening situation" and increases the number of NP's a physician may supervise from 4 to 8. The later was done as an accommodation to "minute clinics."  Failed.
BUDGET FY 2019—HB 684 by Rep. Terry England (R-Auburn).  The only thing the General Assembly HAS to do each year is pass a state budget. The state operates on a fiscal year of July 1 to June 30, so the next fiscal year is FY 2019.  The state budget has a bill number like other bills. The FY '19 budget is House Bill 684, and its sponsor is always the chair of the House Appropriations Committee who is Rep. Terry England Rep. England, btw, has been an outstanding supporter of primary care physicians in the Medicaid program and the critical role physicians play in maintaining a sound economic climate in rural Georgia.  Passed. (It has too!)
DISTRACTED DRIVING — HB 673 by Rep. John Carson (R-Marietta) would limit the use of mobile devices while operating a vehicle. The bill provides for fines with the intent to use the fine revenue for trauma care.  This bill had a surprising difficult path to passage and will doubtless save countless lives and reduce injuries as it signals a "cultural shift" in how we use cell phone in our cars. We supported. Passed.
EMERGENCY ROOM, RETROACTIVE POLICIES – HR 1194 by Rep. David Knight, R-Griffin. creates a House Study Committee to study "retroactive emergency room policies" which "conflict with goals for access to care and discriminate against patients with lower health literacy" to see if action is needed to "mitigate the problem." Passed.
HEALTH SYSTEM INNOVATION CENTER – SB 357, would have created a Health System Innovation Center, headed by a director of health care policy & strategic planning to "unite major stakeholders and components of the state's health system under a strategic vision….by establishing a state-wide coordinating platform." Passed but vetoed by Governor Deal, on the basis of unnecessary expansion of government.
MEDICAL CANNABIS —HB 65 by Rep. David Clark (R-Buford) expands the Low THC Oil Program to add PTSD (if 18 or older) and "intractable pain.  Passed, however we were opposed. In future, the Composite State medical Board will make recommendations to the General Assembly on conditions to be added, which is far more reasonable than current policy.
PHYSICIAN COMPACT — SB 325 by Sen. Kay Kirkpatrick (R-Marietta) would have Georgia join the Interstate Medical Licensure Compact Act, which aims to provide streamlined process for licensure of physicians in Georgia if a physician is licensed in another state. . Failed.
RURAL HEALTH– HB 769, by Rep. Rick Jasperes, creates a Rural Health System Innovation Center to carry out recommendations by the House Rural Development Council including a grant program for rural physicians for "medical malpractice premium assistance "for those practicing in counties of 50,000 or less. Passed.
SUDDEN CARDIAC ARREST PREVENTION—HB 743 by Rep. Clark (98th). Would have Required schools to post information about "nature and warning signs of SCA and hold informational meetings, have parents sign a form to acknowledge they have received the information, etc. Failed.
SURPRISE BILLING — HB 678 by Rep. Richard Smith (R-Columbus)– the newest version of legislation aimed at addressing the "surprise medical billing" issue. The proposal placed certain disclosure requirements on hospitals, physicians, and insurance companies for non-emergency services.  Failed. (As did a competing version SB 359, as below.)
SURPRISE BILLING — SB 359 by Sen. Chuck Hufstetler (R-Rome) sponsored MAG's solution to address surprise billing.  The legislation proposed to promote greater transparency for elective procedures, establish a patient/physician arbitration process for "unexpected events" that take place during elective medical procedures, and establish a standard physician payment model for out-of-network emergency care. . Failed.
SMOKING IN CARS, BAN  — HB 274 by Rep. Sandra Scott (D-Rex) introduced legislation in the 2017 session to prohibit smoking in vehicles when a person under the age of 13 is present in the vehicle. The bill failed to move out of Committee
STEP THERAPY — HB 519 by Rep. Sharon Cooper (R-Marietta) would have required health benefit plans to utilize certain clinical review criteria to establish step therapy protocols for prescription drugs. Failed.
TOBACCO TAXES – by Rep. Chad Nimmer (R-Blackshear) would reduce the taxes on tobacco produce by up to 50% for "modified risk" tobacco products. A bad idea for children & adolescents. Failed.
PROVIDER PAYMENT — HB 818 by Rep. Lee Hawkins (R-Gainesville) will require health insurers that use payer issued electronic credit cards to reimburse providers to allow providers to choose whether or not to utilize this payment option. While this method of payment can be fast and convenient for providers, it often requires providers to pay the credit card fees associated with the transactions, therefore decreasing their reimbursement. We supported this bill. Passed
LEVELS OF CARE — HB 909 by Rep. Deborah Silcox (R-Sandy Springs) would allow the Department of Public Health to designate perinatal facilities providing maternal or neonatal care. The legislation requires the department to create designation criteria and procedures, as well as post a list of designated centers. Passed.
MANDATED BENEFITS FOR AUSTISM TREATMENT, EXPAND AGE TO 12 – HB 118 Sen. Renee Unterman's bill would increase the age limit for mandated benefits from its current 6 years to thru age 12 years old. Passed full Senate and is now in the House Insurance Committee. In a pleasant surprise, this amended in House committee to increase age to 21 years old, and increase the ABA cap to $35,000, all at the request of the committee chairman. Passed.
MEDICAID ATTESTATION PROBLEM REMAINS:  We believed we had this problem fixed in the spring of 2017 when the legislature passed the FY 2018 budget bill. It was intended that those physicians (and NP's and PA's) in primary care who had been the denied the ability to Attest to the Enhanced Medicaid Rate Schedule due to Medicaid policy, would be allowed to do so. On on March 1, 2018 Medicaid verbally informed us that they were moving to correct the Attestation problems due to Location, effective immediately.  If you are in this situation, we advise you to watch your reimbursement to see if in fact this problem is corrected.  For more information, Click here for the BlastE from Jan. 25.  Also, last month, Georgia Health News, an on-line health newsletter, published a story about this "bizarre" situation for some pediatricians and family physicians.  Click here to read it.
Here are the Location Problem scenarios which Ga. Medicaid said would be corrected effective March 1, 2018 i.e. Medicaid will "re-attest" providers who were "de-attested" due to a location issue as below:
Those who failed to attest (in '13 or '14) at all their office locations.
Those who closed an attested location (after 12-31-14) and opened another; or moved to a new practice.
Those attested providers who opened new locations (after 12-31-14.)
We also learned that providers who received their Georgia license on 1-1-15 or later, are eligible to attest under current Medicaid policy. The Medicaid website did not permit some providers to do that, so we are working with Medicaid to get them attested on an individual basis.
August 2018 Update: However, we're sorry to report that as of today, August 9, 2018 problems continue with Attestation. If you have any problems with this issue, please contact the Chapter office as we continue to work to resolve this important issue.
Scenes from Legislative Day at the Capitol, Feb. 15, 2018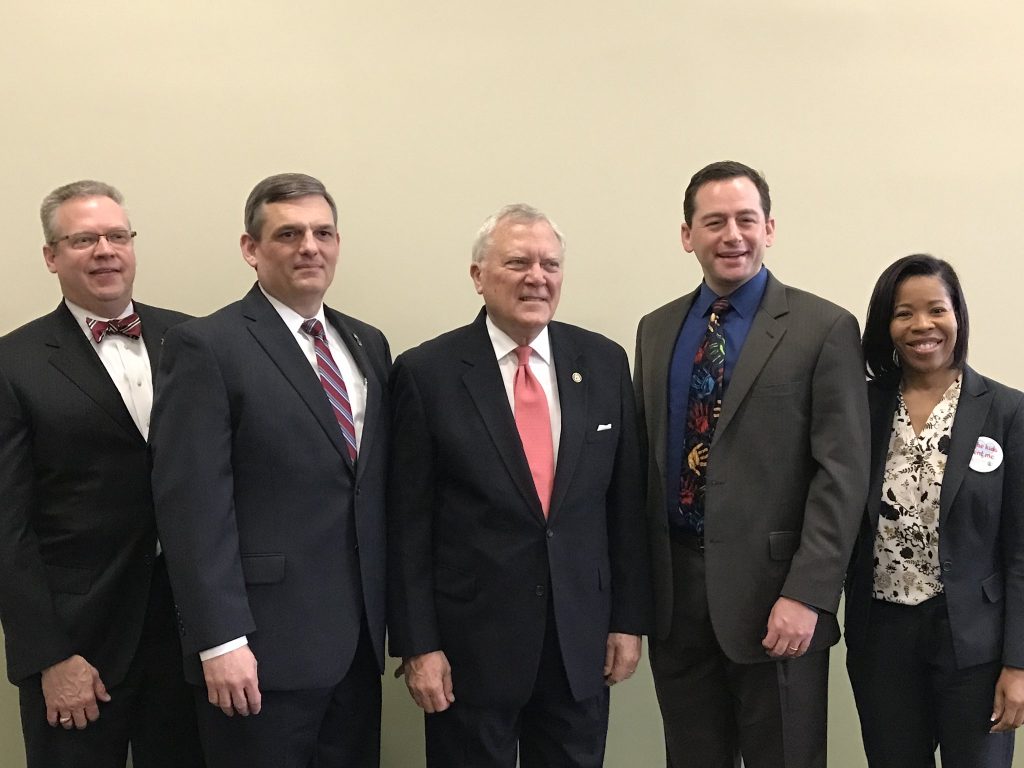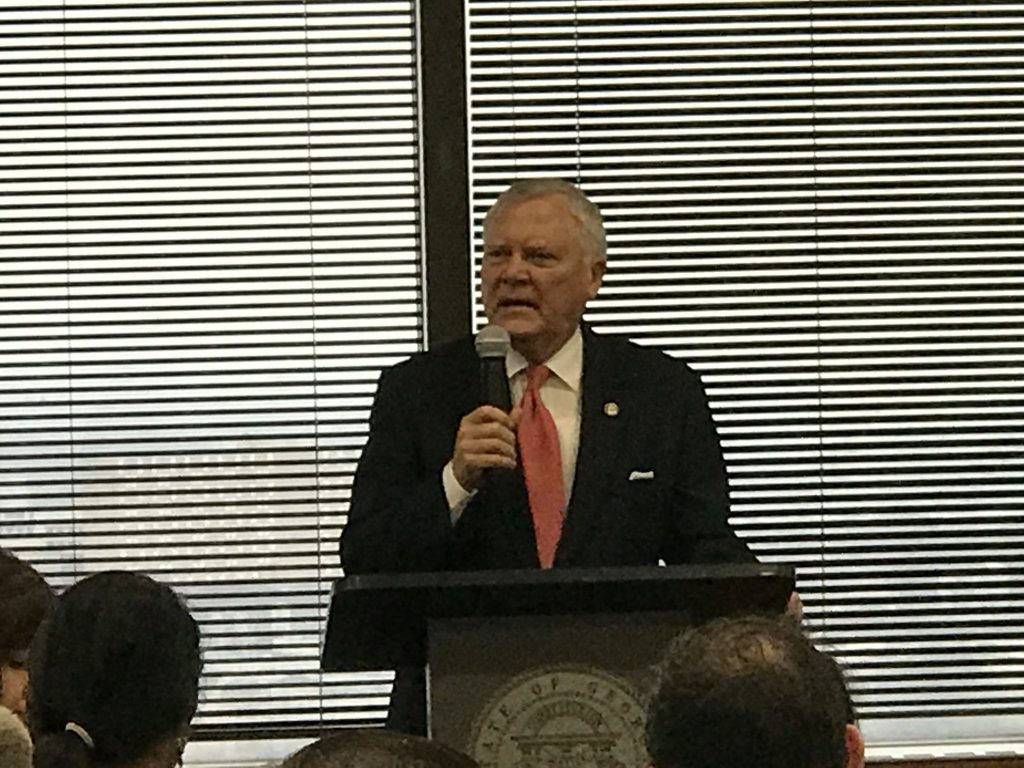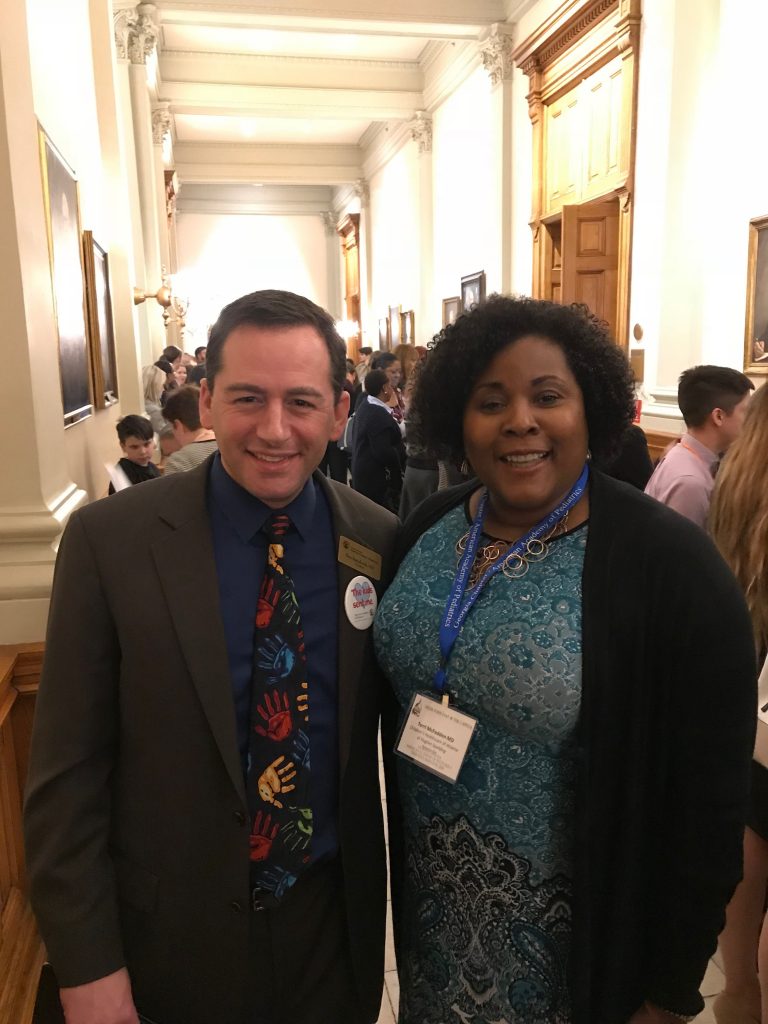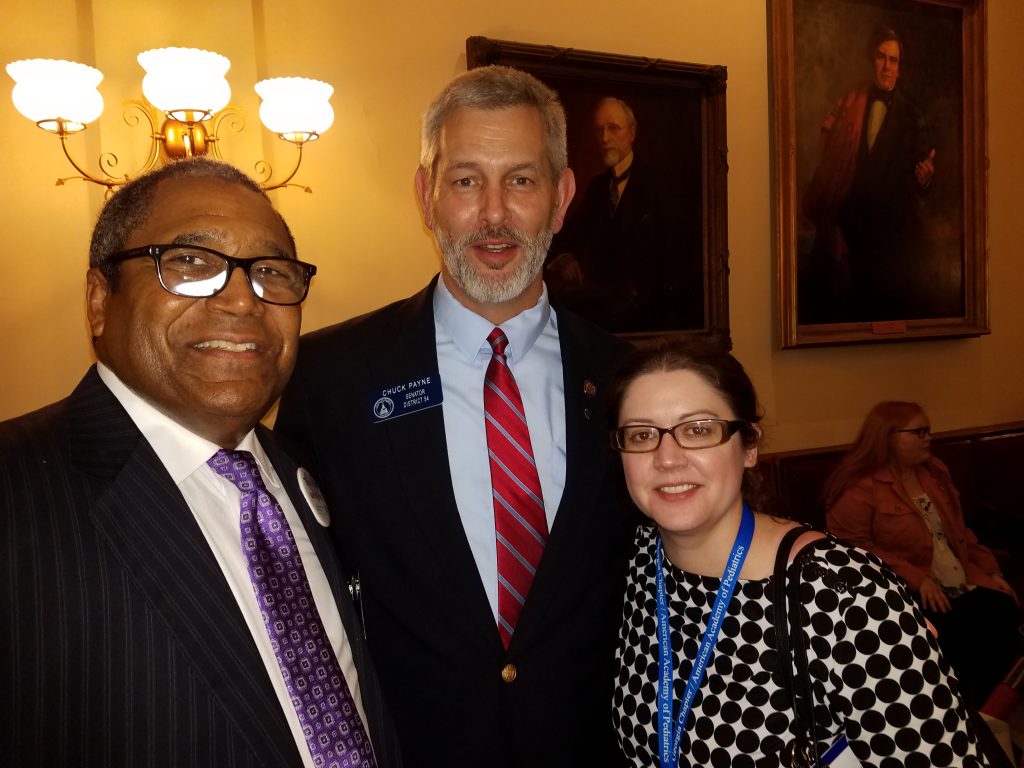 Gov. Nathan Deal, shown with chapter president Ben Spitalnick, MD, Savannah (at right) & Legislative Committee chair Melinda Willingham joined the Governor and our Family Medicine colleagues after the Governor addressed the crowd.  Dr. Spitalnick with Chapter vice-president Terri McFadden, MD; and at far right, Jeff White, MD, Dalton, and his colleague confers with his Senator Chuck Payne, R-Dalton.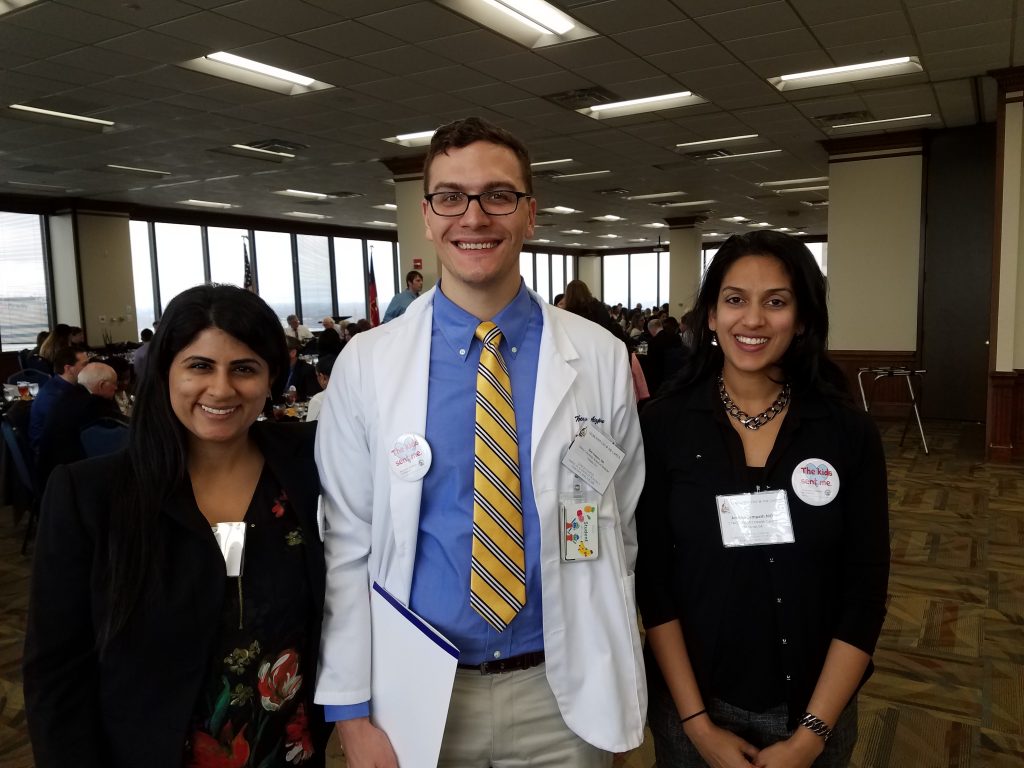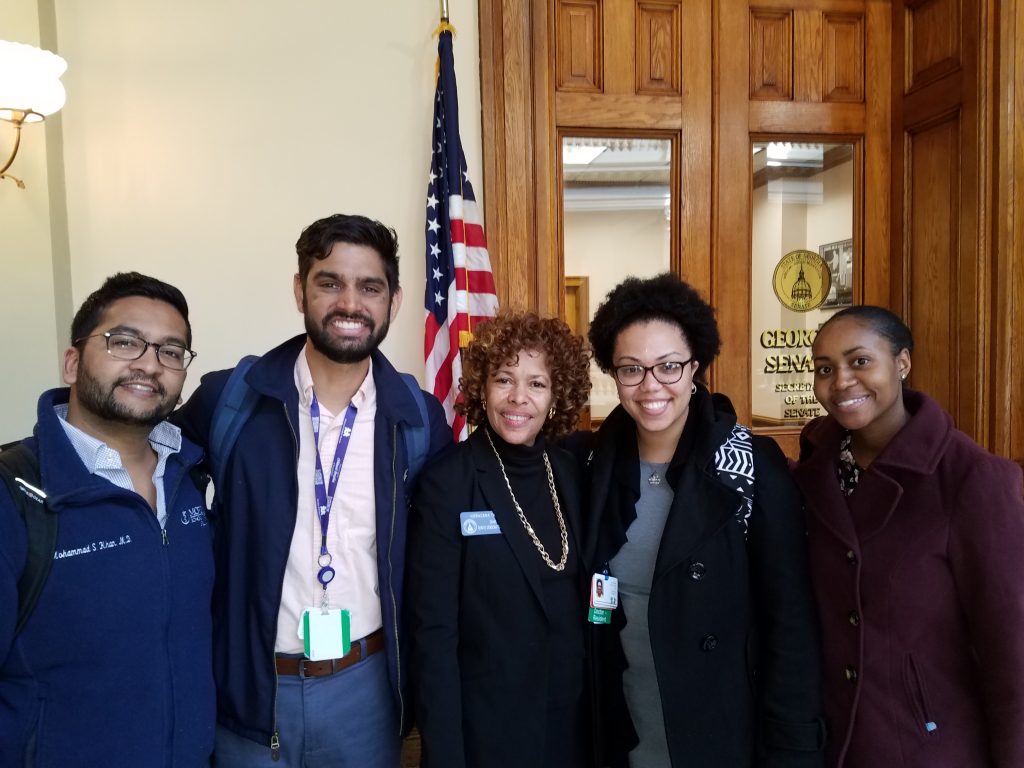 At left, Saira Ali-Mohammad, MD of Emory and two medical students enjoyed Legislative Day. At right, Senator Horcenia Tate, (center) is joined by Morehouse residents during one of their trips to the State Capitol.
House Appropriations Committee Leadership
Terry England, Auburn
404-463-2247 Cap
terry.england@house.ga.gov
Rep. Butch Parrish, Swainsboro
Chair, Sub-committee on Community Health/Medicaid
House Leadership
Rep. David Ralston, Blue Ridge
Speaker of the House
Rep. Jan Jones, Milton
Speaker Pro Tem
404-656-5072
jan.jones@house.ga.gov

Rep. Jon Burns, Statesboro
404-656-5052
jon.burns@house.ga.gov
Senate Appropriations Committee
Sen. Jack Hill, Reidsville, Chair
404-656-5038
jack.hill@senate.ga.gov

Sen. Dean Burke, MD, Bainbridge
Chair, Subcommittee on Community Health & Medicaid
dean.burke@senate.ga.gov
Senate Leadership
Lt. Gov. Casey Cagle, Gainesville
Sen. Bill Cowsert, Athens
Senate Majority Leader 
404-463-1366
bill.cowsert@senate.ga.gov
Sen. Butch Miller, Gainesville
Senate President Pro Tem
404-656-0048
david.shafer@senate.ga.gov
 FY 2016
Sample Letter to Email to Legislators re Medicaid-Medicare parity payment issue
House & Senate Appropriations Medicaid sub-committees which will consider state Medicaid budget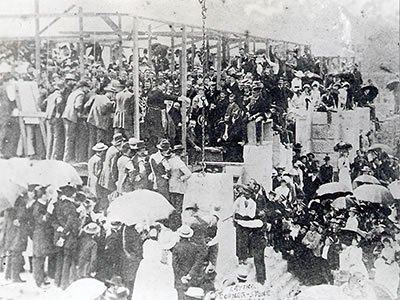 For a complete text of any these bills you can visit the Georgia General Assembly website:  www.legis.state.ga.us.   For more information on these or other bills, contact Rick Ward, at the Chapter office, at jrice@gaaap.org. Thanks to the members of the Legislative Committee for their efforts during the session and to all our members who contacted their legislators about our issues.  Your support and participation in the legislative process is vitally important to our advocacy.