Georgia AAP: Members Reminded to Register for
Georgia Physicians Drug Monitoring Program (PDMP)
by Dec. 31, 2017
Please Register by December 31, 2017
Members are reminded of their obligation, as per House Bill 249 which passed the General Assembly last spring, to register for the Ga. Physicians Drug Monitoring Program (PDMP) by December 31, 2017.  We are attaching here a BlastE we sent on this issue in August. ALL physicians must register, regardless of the types of medications you prescribe.  Please review this message below and act accordingly.  If you have any questions, contact Kathryn Autry at the Georgia AAP office at 404-881-5089 or email kautry@gaaap.org.
Recently all physicians in Georgia received notification from the Georgia Dept. of Public Health (DPH) about changes to the Georgia Prescription Drug Monitoring Program (PDMP) mandated by House Bill 249 which passed the General Assembly in March. The bill was passed in part to curb the opioid abuse problem now common in Georgia and other states across the country.
The new law requires prescriber's (e.g. physicians) with DEA numbers to register with the PDMP if they have not already done so. Currently only about 10% of all physicians are registered. This must be completed by January 1, 2018. So members are reminded to do this by the end of the year.  In its June 28th memo, DPH outlined a system based on your birth month to register, given the heavy volume of new registrations they anticipate. Please review the June 28 DPH memo you received, and note the section on page 2 which outlines how to register and what you will need when you register at the website indicated. (Obviously, July is now over, but those of you with birthdays in the January-March period should go ahead and register anytime between now and year-end.)
You can find the DPH memo on how to register with the PDMP on the Chapter website by clicking here.
Secondly, the new law requires that the prescribe check the PDMP before prescribing certain Schedule II drugs & benzodiazepines, and at certain intervals thereafter. However, stimulants used in the treatment of ADHD are NOT included in the list of Schedule II drugs which would require a physician to check before prescribing.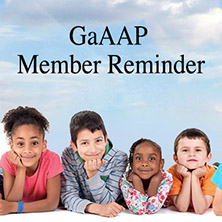 The Georgia AAP followed this bill closely throughout the session and advocated to ensure these drugs were exempted from the bill.  Since they are so routinely prescribed for ADHD treatment, such a requirement would have posed an unreasonable administrative burden on practices seeing these children. The authors of the legislation recognized this and we are appreciative of that.   (If you would like to see the list of Schedule II drugs that are included in the law, visit the Georgia AAP website and look under the Legislative page.)
Melinda Willingham, MD
Chair, Legislative Committee
This message was also posted to the Georgia AAP Practice Managers Listserv.