Georgia Chapter Participates in 2018 National Infant Immunization Week  (April 21 -28, 2018)
The Georgia Chapter of American Academy of Pediatrics (GAAAP) is participating in National Infant Immunization Week (NIIW), April 21-28, 2018, in partnership with the Centers for Disease Control and Prevention (CDC). National Infant Immunization Week (NIIW) is an annual observance to promote the benefits of immunizations and to improve the health of children two years old or younger. Since 1994, local and state health departments, national immunization partners, healthcare professionals, community leaders from across the United States, and the Centers for Disease Control and Prevention (CDC) have worked together through NIIW to highlight the positive impact of vaccination on the lives of infants and children, and to call attention to immunization achievements.
Campaign Resources from the American Academy of Pediatrics will be listed when available.
Published recommendations of the Advisory Committee on Immunization Practices (ACIP) of the Centers for Disease Control and Prevention, which carry the approval of the Secretary of Health and Human Services, provide guidance on how licensed vaccines should be used. Professional organizations such as the American Academy of Family Physicians and the American Academy of Pediatrics (AAP) also develop immunization recommendations. Since 1995, the recommendations of the ACIP, the American Academy of Family Physicians, and the AAP have been harmonized, although minor differences have surfaced from time to time. In the end, some vaccines are recommended for universal use and some are not, despite approval from the US Food and Drug Administration and commercial availability.  The full article can be found at: Understanding the Category B Recommendation for Serogroup B Meningococcal Vaccine
Two new AAP clinical reports about adolescent immunization published online
The American Academy of Pediatrics (AAP) recently published the following two new clinical reports:
1. The Need to Optimize Adolescent Immunization reviews the current epidemiology of meningococcus, pertussis, HPV and influenza in adolescents; and covers immunization rates and barriers to adhering to the adolescent immunization schedule.
2. Practical Approaches to Optimize Adolescent Immunization discusses ways to improve immunization rates, including strategies to enhance parental confidence in immunization.
A summary from the AAP lists the key points highlighted in these two clinical reports.
• Adolescent immunization rates are lower than those for younger children
• Every healthcare visit is an opportunity to review and update immunization status
• A strong recommendation from the healthcare provider is the most important reason why parents choose to have their children vaccinated
• Substantial provider time may be necessary for counselling patients and families who are vaccine hesitant or wish to refuse vaccines
• HPV vaccination presents a distinctive set of challenges
• Healthcare technology can be useful and effective in decreasing missed opportunities for vaccination
• Extending care into school-based settings is an alternative strategy that may help improve adolescent immunization rates
American Academy of Pediatrics Emphasizes Safety and Importance of Vaccines (Jan 2017)
In response to news reports today suggesting a possible new federal commission on immunizations, the American Academy of Pediatrics reiterates that vaccines protect children's health and save lives. They prevent life-threatening diseases, including forms of cancer. Vaccines have been part of the fabric of our society for decades and are the most significant medical innovation of our time.
The full article can be found here.
 Human Papillomavirus (HPV) Vaccination Report: Georgia
2015 NIS-Teen HPV Data Summary: Georgia
Compared to estimates from 2014, HPV vaccination coverage in Georgia:
 Significantly decreased from 2014 to 2015 in ≥2 and ≥3 dose coverage for females. There was a non-significant decrease in ≥1 dose coverage among females.
 Significantly increased from 2014 to 2015 in ≥2 dose coverage for males. There were non-significant increases in ≥1 and ≥3 dose coverage among males.
FIGURE 1. Estimated vaccination coverage with ≥1 dose of HPV vaccine* among female adolescents aged 13–17 years† — National Immunization Survey-Teen,§ United States, 2015
FIGURE 2. Estimated vaccination coverage with ≥1 dose of HPV vaccine* among male adolescents aged 13–17 years† — National Immunization Survey-Teen,§United States, 2015  
Figure 1                                                        Figure 2
HPV Champion Toolkit (Dec 2016)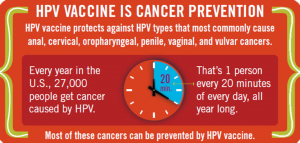 This toolkit has the best resources available to help you:
Educate other healthcare professionals
Discuss HPV vaccination with parents
Make necessary changes in your practice to improve HPV vaccination rates.
By focusing on ways you can make changes that will lead to improved HPV vaccination rates, YOU are an HPV champion. ​
A link to the Tool Kit can be found here.
Anesthetic cream most effective pain reliever for infant vaccinations (Dec 2016)
Infant vaccinations are considered the best way to protect a baby from 14 serious childhood diseases. Sometimes, the pain from vaccine injections can distress infants, which contributes to hesitancy from parents to vaccinate their child further. New research – published in the Canadian Medical Association Journal – has found a solution; anesthetic cream is regarded as the most effective pain reliever for infants.  Click here for the entire article
AAP Releases Interactive Infographic – Child Vaccination Across America (Dec 2016)
Routine childhood immunizations are vital to individual and society health. Across the United States, immunization rates vary, and as a result, some communities have experienced preventable disease outbreaks. Higher immunization rates protect vulnerable children who are too young to be vaccinated as well as those who cannot be vaccinated for medical reasons.  Click here for the infographic.
ACIP — Updated Recommendations for Use of a 2-Dose Schedule for Human Papillomavirus Vaccination (Dec 2016)
The MMWR report includes new recommendations for use of a 2-dose schedule for girls and boys who initiate the vaccination series at ages 9 through 14 years. Three doses remain recommended for persons who initiate the vaccination series at ages 15 through 26 years and for immunocompromised persons. The report can be found here.
Updated HPV (Human Papillomavirus) Vaccine Information Statement released (Dec 2016)
Gardasil-9 (9-valent HPV vaccine) will soon be the only HPV vaccine available in the United States, and this will be the only HPV VIS. (That is why the brand name no longer appears on the VIS.)
The last doses of Cervarix expired at the end of November, and the VIS has been removed. The Gardasil (quadrivalent HPV vaccine) VIS will be taken down when the last doses have expired in May of 2017. In the meantime, continue to use that VIS when administering Gardasil, and use this VIS when administering Gardasil-9.
The new VIS publication date is 12/2/2016 and can be found here:  English and Spanish
Georgia slips to 41st in ranking of states by health (Dec 2016)
WASHINGTON
"Georgia fell one notch to 41 among all 50 states in the annual "America's Health Ranking" for 2016 released Thursday by the United Health Foundation, a nonprofit arm of insurer United Health Group."
"Georgia's low ranking – in the bottom 20 percent of all states – in part reflects its rising child poverty rate which has climbed 75 percent in the last 15 years from 16.4 percent to nearly 29 percent in 2016, the study found."
"Bright spots include Georgia's top-ten ranking in terms of fewest drug deaths, 11.2 per 100,000. Georgia also had the nation's 11th highest child immunization rate for children aged 19 to 35 months – 75.6 percent, the report found."
The entire Telegraph article can be found
here
.
CDC Launches New Resource Website to Assist Immunization Partners (Dec 2016)
The National Center for Immunization and Respiratory Diseases (NCIRD) encourages partners to use our educational resources and promotional materials to help supplement vaccine conversations and outreach with parents, pregnant women, and adults, as well as healthcare professionals.  The link to the website is here.
Find resources for each group or topic, including toolkits, drop-in articles, digital media tools, videos, PSAs, fact sheets, and social media messages.
Vaccine shortages and delays (Nov 2016)
The CDC recently updated the chart of vaccines in delay or shortage. The update is related to Tenivac® vaccine (tetanus and diphtheria toxoids adsorbed). This vaccine is expected to become available in the second half of 2017. The demand is not expected to exceed supply based on quantities that will be available from another manufacturer (MassBiologics; distribution by Grifols).
FDA expands licensure of FluLaval Quadrivalent (GSK) to include people ages 6 through 35 months (Nov 2016)
FLULAVAL QUADRIVALENT is a vaccine indicated for active immunization for the prevention of disease caused by influenza A subtype viruses and type B viruses contained in the vaccine. FLULAVAL QUADRIVALENT is approved for use in persons aged 6 months and older.
American Academy of Pediatrics Immunization Information
One very important step in ensuring the health of any child is to make sure he or she receives immunizations at the correct time. Whether it's a childhood MMR vaccine or an adolescent pertussis booster, these simple procedures can save lives. This AAP site has been created to answer any questions you may have about childhood immunization.
Documenting Parental Refusal to Have Their Children Vaccinated
Despite doctors' and nurses' best efforts to explain the importance of vaccines and to address parental concerns about vaccine safety, some families will refuse vaccination for their children.
Educating Physicians In their Communities (EPIC)
The Georgia Chapter of the American Academy of Pediatrics EPIC Immunization Program focuses on the epidemiology and prevention of vaccine preventable disease through proper scheduling and administration of vaccine across the lifespan. EPIC provides the most current ACIP recommendations for all vaccines and discusses the childhood, adolescent, and adult immunization schedules in detail. Other topics include proper administration, documentation, missed opportunities, school requirements and forms, Vaccines For Children (VFC) Program, vaccine safety, communicating risks, strategies to increase rates, storage and handling and more.
CDC Vaccine Information for Parents
On this webpage parents can learn more about the importance of having your child fully vaccinated, age-specific vaccine information, the 16 vaccine preventable diseases that your child can be protected against before 19 years of age and the vaccines that prevent them.
Through collaboration with public and private providers, advocacy groups, and other stakeholders, the Program works to increase immunization rates for all Georgians and decrease the incidence of vaccine-preventable diseases. For more information regarding immunizations and what the Program provides visit this website.
The Advisory Committee on Immunization Practices (ACIP) is a group of medical and public health experts that develops recommendations on how to use vaccines to control diseases in the United States. The ACIP consists of 15 experts who are voting members and are responsible for making vaccine recommendations. The Secretary of the U.S. Department of Health and Human Services (DHHS) selects these members after an application, interview, and nomination process. Fourteen of these members have expertise in vaccinology, immunology, pediatrics, internal medicine, nursing, family medicine, virology, public health, infectious diseases, and/or preventive medicine. One member is a consumer representative who provides perspectives on the social and community aspects of vaccination.
This web page contains the latest national information about vaccine supplies and provides guidance to healthcare providers who are facing vaccine shortages or delays.
*Note: Only those vaccines included on the recommended childhood and adolescent immunization schedule are included in this update.
Vaccine Information Statements
Vaccine Information Statements (VISs) are information sheets produced by the Centers for Disease Control and Prevention (CDC) that explain to vaccine recipients, their parents, or their legal representatives both the benefits and risks of a vaccine. Federal law requires that VISs be handed out whenever (before each dose) certain vaccinations are given. Information on all of the VIS's can be found on this site.
Georgia Vaccines for Children Program
This federally funded program supplies vaccine free of charge to participating providers.  The vaccine may then be made available to children up to 19 years of age who are: Medicaid Enrolled, Uninsured (child has no health insurance coverage), Underinsured (child has health insurance but immunizations are not a covered benefit) or American Indian or Alaska Native.
Georgia Registry of Immunization Transactions and Services (GRITS)
The Georgia Immunization Registry is designed to collect and maintain accurate, complete and current vaccination records to promote effective and cost-efficient disease prevention and control. The Georgia Immunization Registry law, passed in 1996 and expanded by House Bill 1526, requires reporting by " any person who administers a vaccine or vaccines licensed for use by the United States Food and Drug Administration to a person." Several options are available for submitting immunization records to the Registry. Georgia's immunization providers also have quick and easy access to immunization records on individuals and able to generate a variety of reports on their immunization status. Find additional information on this site.
The Immunization Action Coalition (IAC) works to increase immunization rates and prevent disease by creating and distributing educational materials for health professionals and the public that enhance the delivery of safe and effective immunization services. The Coalition also facilitates communication about the safety, efficacy, and use of vaccines within the broad immunization community of patients, parents, health care organizations, and government health agencies.
For additional information, questions, or concerns please contact Noreen Dahill,
Immunization Coordinator at (404) 881-5094 or ndahill@gaaap.org
Also, for further immunization information and to schedule an immunization education program
in your office, go to the Chapter's Immunization EPIC webpage at http://www.gaepic.org/