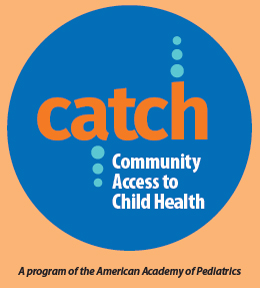 Interested in developing your skills as a leader and learning more about community pediatrics?
The AAP Community Access to Child Health (CATCH) Program is seeking applications for the position of District Resident CATCH Liaison (DRL) in District X (AL, FL, GA, PR). There are 2 vacant DRL positions in our district.  The suggested term for this position is 2 years starting in November 2019 CATCH's mission is to support pediatricians to collaborate within their communities to advance the health of all children. Our vision is that every child in every community reach optimal health and well-being. Learn more about the responsibilities and activities of the position. The deadline to apply online is September 12, 2019. Note: At the end of the online application, you must upload a current copy of your CV and a letter of support in PDF format to submit a completed application.
If you are an interested resident or you're an attending professor who has an ideal resident in mind for the position, please don't hesitate to reach out to your Georgia CATCH Chapter Facilitators (myself or Dr. Katherine Duncan) to further discuss. Georgia has a long-history of resident involvement in CATCH and we hope to continue this legacy into the future.
Lillianne Lewis Debnam MD, MPH, FAAP
CATCH Chapter Facilitator, Georgia AAP
Affiliation: Morehouse School of Medicine | Morehouse Healthcare
Katherine Duncan MD, MSPH, FAAP
CATCH Chapter Facilitator, Georgia AAP
Affiliation: Mercer School of Medicine| Navicent Health | Beverly Knight Olson Children's Hospital
You may also contact Cordia Starling, CATCH Chapter liaison, cstarling@gaaap.org or 404-881-5081.