As the child is, so the world of tomorrow shall be.®
Coronavirus: Resources for Members & Impact on Chapter Events
We are continuing to monitor the COVID-19 outbreak in Georgia and the US and as a Chapter are making adjustments to ensure the safety of our members, partners, staff and community at large. We are committed to following all recommendations from the CDC and state and local public health departments and will be modifying and postponing events as necessary.
The Jim Soapes Charity Golf Classic has been cancelled for 2020.
The Fall CME Meeting has been converted to a virtual format. Pediatrics on the Virtual Parkway: Halloween Edition is Saturday, October 31st – Sunday, November 1st. Information on how to register is coming soon.
The Georgia Pediatric Practice Manager and Nurses Meeting has been postponed to May 2021.
The Chapter will be limiting in person meetings and providing a call-in or webinar option for all meetings. All Chapter staff are working remotely in the coming weeks, so we ask for your patience in returning calls. Email is the best way to reach the staff.
For questions regarding our response to COVID-19, contact Noreen Dahill at ndahill@gaaap.org. 
For questions regarding telehealth, contact Fozia Eskew at feskew@gaaap.org. 
You can also visit the About tab for a full staff directory. Thank you!
No Results Found
The page you requested could not be found. Try refining your search, or use the navigation above to locate the post.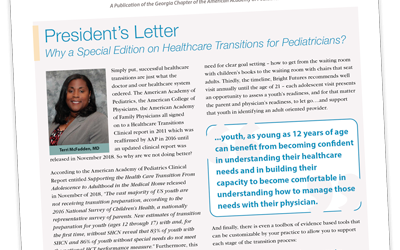 Special Edition on Youth Health Care TransitionsThe Georgia Pediatrician Healthcare is a vast system that requires the guidance of a medical home to help families with children and especially children with special healthcare needs, to navigate.  In 1998, the...