Welcome!
August 2022
Well, since Congress has failed to act on our proposal for "Two July's……one of the old-fashioned kind where life slows down, and one that we live like every other busy month!" (joke!) it means August has rolled around. And with that, it means "back to school" and back to sports PPE exams.  The Ga. High School Association made a change in the PPE form in May and these details are noted in a Blast Communication to all our members this week. Be sure and review it.  We'll be putting out some other "Back to school" reminders soon, as well.
Speaking of reminders, the Chapter Update is emailed to all members twice a month with the latest information for you and your practice. It comes out on the second and fourth Wednesdays. If you're not getting your copy, contact the Chapter office. We may have a wrong email for you.
The Chapter has lots of activities and training this month in the mental health & development arena.  Last month we launched our Georgia Mental health Access in Pediatrics, or GMAP……the road to better mental health for Georgia's children.  We are offering two ECHO® classes (6 sessions each) on the topic of "Managing Anxiety & Depression in Children & Adolescents." Both classes filled up quickly but more will be offered in 2023. Also, later this month, we'll offer another ECHO® class on "Infant Mental Health & Development and the Pediatrician's Role," featuring David O'Banion, MD as faculty.  We're also planning a webinar this fall in partnership with the American Board of Pediatrics on the MOC process and achieving Part IV points. Details to follow.
And be sure to mark your calendar for the Chapter Fall Conference, November 17-19, 2022 at the Cobb Galleria Centre, Atlanta. Program chair this year is Rebecca Reamy, MD, chief of pediatrics at Piedmont Columbus Children's Hospital.
Finally, we want to congratulate and welcome new Georgia AAP members who also became Fellows of the American Academy of Pediatrics last month. Congratulations on these prestigious memberships!
As always, please let us know at the Georgia AAP office if we can ever assist you.
No Results Found
The page you requested could not be found. Try refining your search, or use the navigation above to locate the post.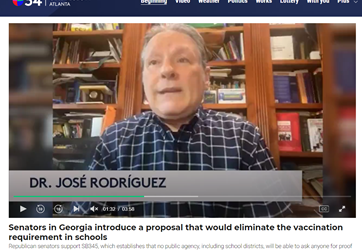 If passed, this bill would eliminate Georgia's current law…