Spring 2021 GPNA & GPPMA On-Demand Meeting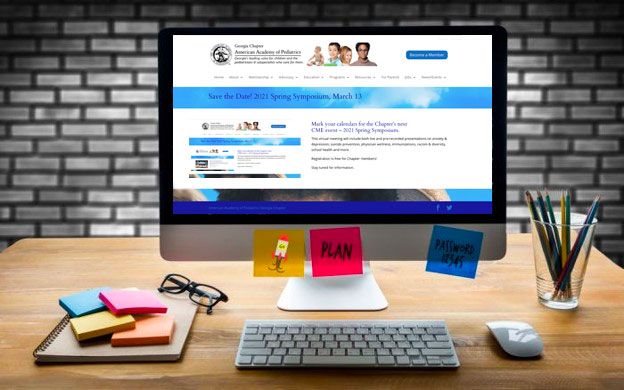 Faculty & Planning Committee Disclosure (for GPNA Lectures only)
This nursing continuing professional development activity was approved by the Georgia Nurses' Association, an accredited approver by the American Nurses' Association Credentialing Center's Commission on Accreditation.
Evaluation & Claiming Nursing credits
To complete the evaluation or claim Nursing credit for the nurses sessions, please visit the links below. Certificates will be emailed to you on June 2, 2021.
GPNA & GPPMA On Demand Sessions
Click on the links below to view the recorded sessions.
Roy Benaroch, MD, FAAP
Assistant Adjunct Professor of Pediatrics, Emory University,
Chair, Children's Care Network, Roswell
Noreen Dahill
Immunization Coordinator, Georgia AAP
Charrelle Coates, MD, FAAP
Adolescent Medicine-Pediatrics
Memorial Health University Medical Center, Savannah
Barbara Turner, RN
EPIC Immunization Trainer, Atlanta
Shelley Callender, MD, FAAP
Associate Professor of IM/Ped/FM, Mercer University School of Medicine
Medical Director, Sports Medicine & Concussion
Atrium Health Navicent, Macon
Roy Benaroch, MD, FAAP
Assistant Adjunct Professor of Pediatrics, Emory University,
Chair, Children's Care Network, Roswell
Noreen Dahill
Immunization Coordinator, Georgia AAP
Selfcare for Practice Managers
Anana H. Parris
Founder & CEO, The Self Care Agency, LLC, Atlanta
Charrelle Coates, MD, FAAP
Adolescent Medicine-Pediatrics
Memorial Health University Medical Center, Savannah
Barbara Turner, RN
EPIC Immunization Trainer, Atlanta
Shelley Callender, MD, FAAP
Associate Professor of IM/Ped/FM, Mercer University School of Medicine
Medical Director, Sports Medicine & Concussion
Atrium Health Navicent, Macon