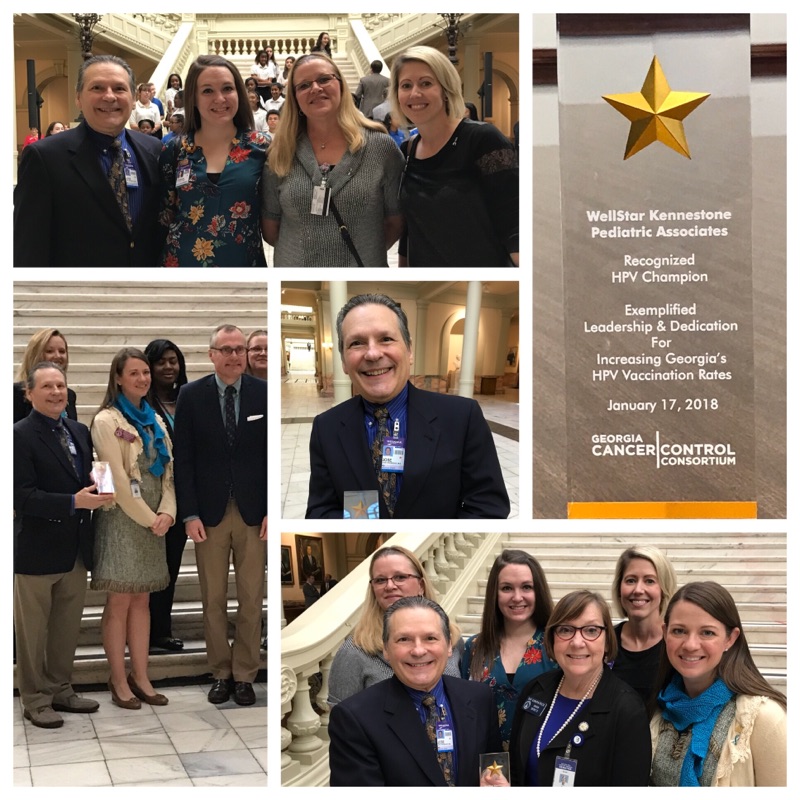 Three Georgia Chapter Members Recognized for Their Dedication to Increasing HPV Vaccination Rates
Georgia Chapter AAP members Grace Davis, MD (Sylvester Pediatrics & Adolescent Medicine – Sylvester, GA), Sandra Rodriguez-Sfeir and Jose Rodriguez-Torres, MD (Both from WellStar Kennestone Pediatrics – Marietta, GA) were recognized for their dedication to increasing Georgia's HPV vaccination rates.  Thomas County Health Department (Thomasville, GA) was also recognized.  The awards were presented by the Georgia Cancer Control Consortium's HPV Prevention and Education Work Group during Cervical Cancer Awareness Day at the Georgia Capitol.  All award recipients were above National HPV immunization rates (National Immunization Survey – Teen) (CDC/NCIRD) and have exceeded the Healthy People 2020 HPV immunization rate objective.
Twenty-five organizations, including Georgia Chapter AAP, were present to stand united with State Representatives Pat Gardner (District 57 Atlanta) and Teri Anulweicz (District 42 Smyrna) to promote the human papillomavirus (HPV) vaccination as cancer prevention.