Chapter Member Jose Rodriguez, MD Speaks in Opposition to Georgia SB 345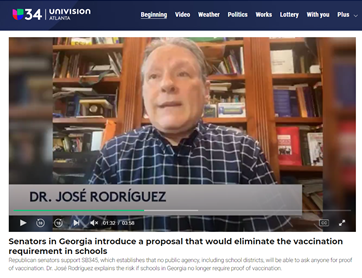 Jose Rodriguez, MD was interviewed on Univision, Atlanta on Tuesday, February 8, 2022 regarding Georgia SB 345. 
If passed, this bill would eliminate Georgia's current law, which has stood to protect Georgia children for more than 40 years, on school vaccine requirements.  Every state in the nation has vaccination laws in place, and they have saved millions of children from death and devastating disease. 
Vaccine requirements prevent illnesses and absences from school as well as reducing the time parents miss work to care for sick children.  The Chapter is continuously working to protect Georgia children, and oppose such bills.