May is Hepatitis A Awareness Month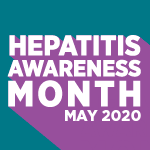 May is Hepatitis Awareness Month. Hepatitis A, hepatitis B, and hepatitis C are three types of viral hepatitis. Although each type of viral hepatitis is caused by a different virus and is spread in different ways, they all affect the liver and can cause serious health problems.  Click here for more resources.
Georgia Department of Public Health Immunization Regulations
According to the 
Georgia Department of Public Health Rule (511-2-2)
, children born on or after January 1, 2002 who are attending seventh grade, and children who are new entrants into a Georgia school in grades eight through 12, must have received one dose of Tetanus, Diphtheria and Pertussis (Tdap) vaccine and one dose of meningococcal conjugate vaccine (MenACWY).
This law affects all public and private schools including, but not limited to, charter schools, community schools, juvenile court schools and other alternative school settings (excluding homeschool).
HPV Immunization Quality Improvement (QI) Project
Congratulations to the following practices for completing the Georgia Chapter, American Academy of Pediatrics & Georgia Department of Public Health HPV Immunization Quality Improvement Project.
First Georgia Pediatrics – Shakerag
First Georgia Pediatrics – Yorktown
Mountainside Pediatrics
Pediatric Associates of Lawrenceville
Pediatric Associates of North Atlanta, PC
Pediatrics Village, P.C.
Pediatrics at Whitlock. PC
Rivertown Pediatrics
WellStar Kennestone Pediatrics
The project was led by the Chapter office.   The Chapter provided tools, resources, and technical support that lead quality improvement efforts among 9 practices.
The goal of the project was to increase patients receiving one or more doses of HPV, increase HPV series completion rates, and reduce missed opportunities. This was done by using HPV Immunization Quality Improvement tools (Presumptive statement) and resources from the AAP Champion Toolkit.
The project used GRITS/CoCASA to determine which patients were coming due or past due for a HPV Immunization. Offices then used the list to schedule appointments for patients. Once patients were in the office the providers used the HPV QI training, conducted during learning session I, to incorporate presumptive statements in communication with patients and parents.
Practices worked with a multi-disciplinary "core QI team" of clinical and administrative staff from their office to improve immunizations rates.
Across the board all the teams increased HPV immunization rates and decreased missed opportunities!
Georgia Chapter Member Named CDC Childhood Immunization Champion!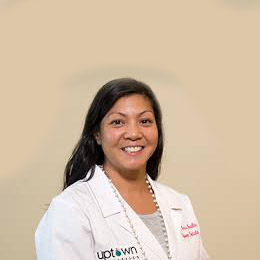 Feoderis Basilio, MD, FAAP is the recipient of the 2018 CDC Childhood Immunization Champion Award. Dr. Basilio is a pediatrician at Uptown Pediatrics in Columbus, GA and serves as Secretary for the Georgia Chapter AAP.  One champion is selected from each of the of the 50 U.S. states, 8 U.S. Territories and Freely Associated States, and the District of Columbia.
The Champion Award is intended to recognize individuals who are working at the local level. It honors those who are doing an exemplary job or going above and beyond to promote or foster childhood immunizations in their communities.  Congratulations Dr. Basilio from the Georgia Chapter, American Academy of Pediatrics!
Georgia Chapter Hosted a Pediatric Infectious Disease & Immunization Conference on March 24, 2018 in Atlanta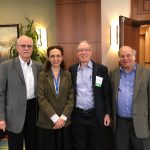 Physicians, physician assistants, residents, medical students, nurse practitioners, nurses and other healthcare  and industry professionals spent the day learning about vaccinology, vaccine hesitancy, public health, infectious disease, coding & billing, influenza and emerging pathogens from esteemed colleagues.
Click here to see topics discussed.
(Pictured Drs. Larry Pickering, Inci Yildirim, Walter Orenstein and Harry Keyserling)
The Importance of Meningococcal Vaccine Prevention.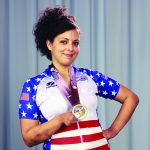 Chapter 5, Jamie Schanbaum, from "Overlooked Casualties: Stories of Families Affected by Vaccine Preventable Diseases" by Tara Susan Haelle (MA dissertation, University of Texas at  Austin, 2012) is reprinted here with author's permission.
Jamie Schanbaum has spunk. With long, curly black hair – a source of immense pride – and an incisive sense of humor that spares no one, including herself, Jamie is not the type to brag about her accomplishments, like recently winning the National Championships in Paralympic cycling, or to cry in her coffee when things get tough. In fact, she counts herself as pretty darn lucky: she's missing two hands and two lower legs, but she has her life and her brain intact.
And that's more than most bacterial meningitis survivors can say. That's not to say she didn't have to overcome the depression she experienced after she got sick. After more than seven months in the hospital and three more months before she could walk again, Jamie sometimes had to fight to remind herself who she was. But now, she takes every opportunity to ensure others know who she is too – if only to convey the importance of avoiding the experience she endured.
On November 13, 2008, Jamie was a 20-year-old University of Texas at Austin undergraduate who was doing about the most mundane ritual any other student might have been doing on a Wednesday night besides studying – finishing up her laundry at a friend's house.  (Click here to continue).
Three Georgia Chapter Members Recognized for Their Dedication to Increasing HPV Vaccination Rates
Georgia Chapter AAP members Grace Davis, MD (Sylvester Pediatrics & Adolescent Medicine – Sylvester, GA), S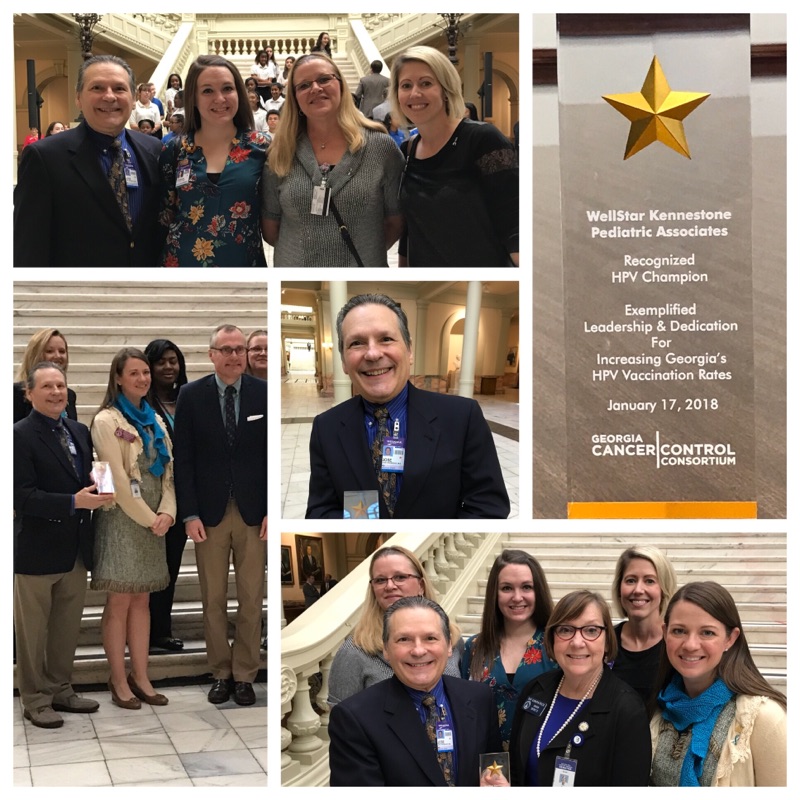 andra Rodriguez-Sfeir and Jose Rodriguez-Torres, MD (Both from WellStar Kennestone Pediatrics – Marietta, GA) were recognized for their dedication to increasing Georgia's HPV vaccination rates.  Thomas County Health Department (Thomasville, GA) was also recognized.  The awards were presented by the Georgia Cancer Control Consortium's HPV Prevention and Education Work Group during Cervical Cancer Awareness Day at the Georgia Capitol.  All award recipients were above National HPV immunization rates (National Immunization Survey – Teen) (CDC/NCIRD) and have exceeded the Healthy People 2020 HPV immunization rate objective.
Twenty-five organizations, including Georgia Chapter AAP, were present to stand united with State Representatives Pat Gardner (District 57 Atlanta) and Teri Anulweicz (District 42 Smyrna) to promote the human papillomavirus (HPV) vaccination as cancer prevention.
Georgia AAP Member Practices Complete the Chapter Quality Network (CQN) U.S. Immunizations Project
(Learning Session 3)
Congratulations to the following practicies: Children's Hospital of Georgia at Augusta University, Decatur Pediatric Group – Lithonia, Decatur Pediatric Group – Smyrna, Dunwoody Pediatrics, First Georgia Pediatrics – Fayetteville, First Georgia Pediatrics – Peachtree City, Harbin Clinic Pediatrics, Intown Pediatrics, Jonesboro Pediatrics – Jonesboro, Jonesboro Pediatrics – McDonough, Kids and Teens Primary Healthcare, Pediatric Associates of Newnan and Uptown Pediatrics
Click here to read more about the success of the project.
American Academy of Pediatrics Immunization Information
One very important step in ensuring the health of any child is to make sure he or she receives immunizations at the correct time. Whether it's a childhood MMR vaccine or an adolescent pertussis booster, these simple procedures can save lives. This AAP site has been created to answer any questions you may have about childhood immunization.
Documenting Parental Refusal to Have Their Children Vaccinated
Despite doctors' and nurses' best efforts to explain the importance of vaccines and to address parental concerns about vaccine safety, some families will refuse vaccination for their children.
Educating Physicians In their Communities (EPIC)
The Georgia Chapter of the American Academy of Pediatrics EPIC Immunization Program focuses on the epidemiology and prevention of vaccine preventable disease through proper scheduling and administration of vaccine across the lifespan. EPIC provides the most current ACIP recommendations for all vaccines and discusses the childhood, adolescent, and adult immunization schedules in detail. Other topics include proper administration, documentation, missed opportunities, school requirements and forms, Vaccines For Children (VFC) Program, vaccine safety, communicating risks, strategies to increase rates, storage and handling and more.
CDC Vaccine Information for Parents
On this webpage parents can learn more about the importance of having your child fully vaccinated, age-specific vaccine information, the 16 vaccine preventable diseases that your child can be protected against before 19 years of age and the vaccines that prevent them.
Through collaboration with public and private providers, advocacy groups, and other stakeholders, the Program works to increase immunization rates for all Georgians and decrease the incidence of vaccine-preventable diseases. For more information regarding immunizations and what the Program provides visit this website.
The Advisory Committee on Immunization Practices (ACIP) is a group of medical and public health experts that develops recommendations on how to use vaccines to control diseases in the United States. The ACIP consists of 15 experts who are voting members and are responsible for making vaccine recommendations. The Secretary of the U.S. Department of Health and Human Services (DHHS) selects these members after an application, interview, and nomination process. Fourteen of these members have expertise in vaccinology, immunology, pediatrics, internal medicine, nursing, family medicine, virology, public health, infectious diseases, and/or preventive medicine. One member is a consumer representative who provides perspectives on the social and community aspects of vaccination.
Vaccine Supply Status
This web page contains the latest national information about vaccine supplies and provides guidance to healthcare providers who are facing vaccine shortages or delays.
*Note: Only those vaccines included on the recommended childhood and adolescent immunization schedule are included in this update.
Vaccine Information Statements
Vaccine Information Statements (VISs) are information sheets produced by the Centers for Disease Control and Prevention (CDC) that explain to vaccine recipients, their parents, or their legal representatives both the benefits and risks of a vaccine. Federal law requires that VISs be handed out whenever (before each dose) certain vaccinations are given. Information on all of the VIS's can be found on this site.
Georgia Vaccines for Children Program
This federally funded program supplies vaccine free of charge to participating providers.  The vaccine may then be made available to children up to 19 years of age who are: Medicaid Enrolled, Uninsured (child has no health insurance coverage), Underinsured (child has health insurance but immunizations are not a covered benefit) or American Indian or Alaska Native.
Georgia Registry of Immunization Transactions and Services (GRITS)
The Georgia Immunization Registry is designed to collect and maintain accurate, complete and current vaccination records to promote effective and cost-efficient disease prevention and control. The Georgia Immunization Registry law, passed in 1996 and expanded by House Bill 1526, requires reporting by " any person who administers a vaccine or vaccines licensed for use by the United States Food and Drug Administration to a person." Several options are available for submitting immunization records to the Registry. Georgia's immunization providers also have quick and easy access to immunization records on individuals and able to generate a variety of reports on their immunization status. Find additional information on this site.
The Immunization Action Coalition (IAC) works to increase immunization rates and prevent disease by creating and distributing educational materials for health professionals and the public that enhance the delivery of safe and effective immunization services. The Coalition also facilitates communication about the safety, efficacy, and use of vaccines within the broad immunization community of patients, parents, health care organizations, and government health agencies.
For additional information, questions, or concerns please contact Noreen Dahill,
Immunization Coordinator at (404) 881-5094 or ndahill@gaaap.org
Also, for further immunization information and to schedule an immunization education program
in your office, go to the Chapter's Immunization EPIC webpage at http://www.gaepic.org/