Georgia Pediatric Nurses Association
The Georgia Pediatric Nurses Association (GPNA) is a companion organization to the Georgia Chapter of the American Academy of Pediatrics (GC/AAP).  GPNA was created to provide educational and networking opportunities for pediatric nurses and other clinical staff in our members' offices.  There are no dues to join GPNA.
Nurses can become an Associate Member of the Georgia Chapter/AAP for $80.  This entitles you to additional benefits such as Chapter newsletters, directories, discounts to chapter meetings and much more.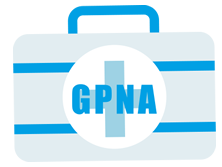 Communication
GPNA sends out quarterly email newsletters with hot topics that are pertinent issues for our member's clinical staff.  If you have an item you would like to see added to our e-newsletter, please contact us.
Steering Committee
The bi-annual meetings are planned by the GPNA Steering Committee.  If you are interested in participating in the steering committee contact Kasha Askew at kaskew@gaaap.org.    We are looking for steering committee members to represent all areas of the state.