Congratulations to the newly Certified Breastfeeding-Friendly Pediatricians!
The Georgia Chapter of the American Academy of Pediatrics (AAP) and the Georgia Breastfeeding Coalition want to equip pediatricians to better support their patient families to meet AAP breastfeeding recommendations and more importantly, their own breastfeeding goals.  While breastfeeding is an important public health issue, pediatricians provide care to individual families each day who need clinical guidance on breastfeeding and lactation issues.  Hospitals in Georgia have been working hard to improve their practices, but especially during the pandemic, most stays are short and new parents are even more reliant on their pediatrician for support.  Launched in 2020, the program received a robust response from Georgia's pediatricians and now counts 91 applicants.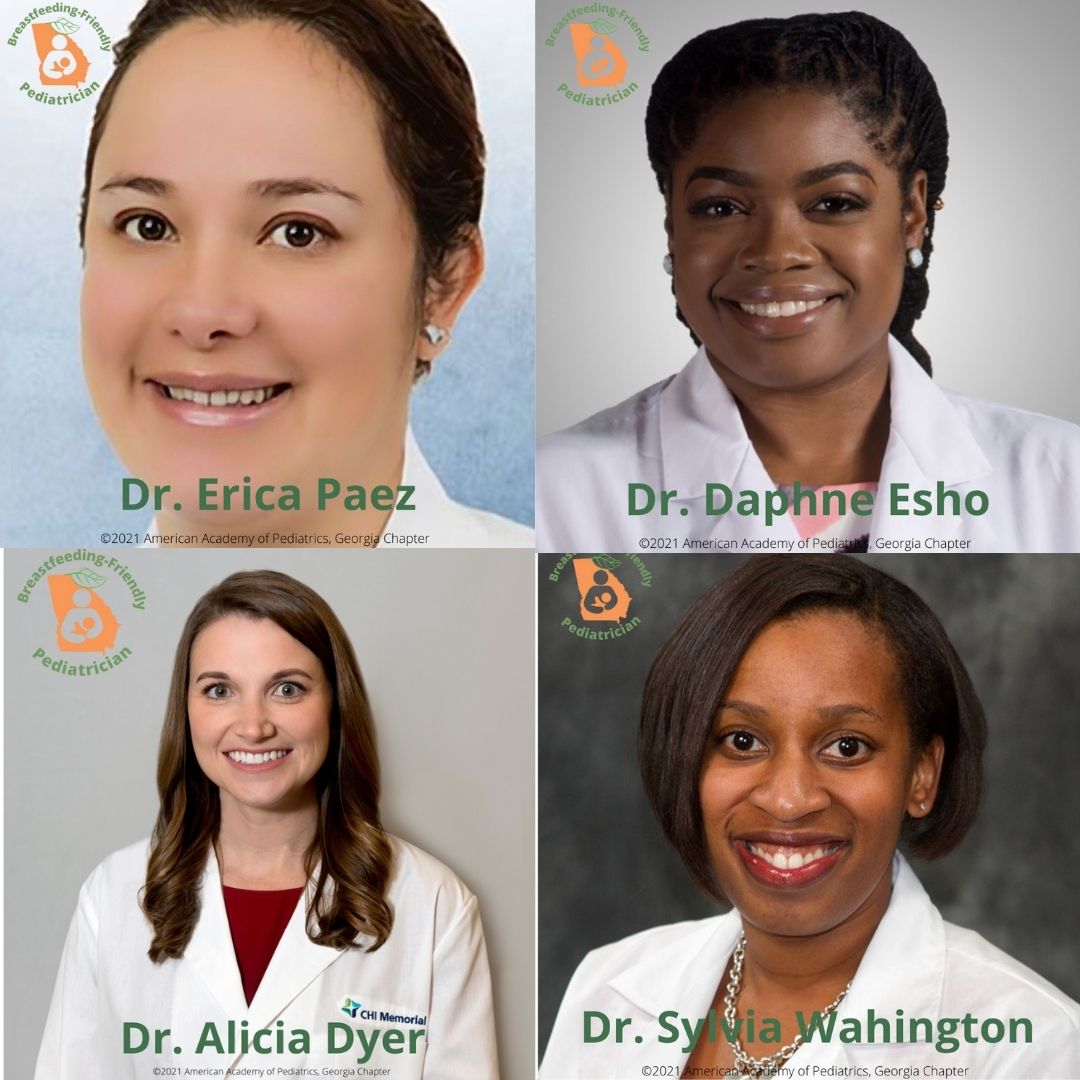 Erica Paez, MD, FAAP, Imagine Pediatrics, PC, Rome GA. "I am a graduate of the Universidad de Antioquia, Medellin – Colombia. I completed my pediatric internship and residency at Cooper University Hospital in Camden, NJ and have been actively involved in teaching medical students and residents. I have practiced medicine in New Jersey, South Carolina, and South Georgia before moving back to Rome, GA where I opened my own practice, Imagine Pediatric PC. Personally, I believe that providing personalized care to my patients gives them and their families the opportunity to receive one-on-one care. I am a board-certified pediatrician and a fellow of the American Academy of Pediatrics. Currently, I am living in Rome, GA with my husband Esteban, our two children Mateo and Oliver, and our dog Newton. In my free time, I enjoy reading and spending time with my family and Newton." said Paez.
Alicia Dyer, MD, FAAP, CHI Memorial Pediatric Diagnostic Associates, Ringgold, GA and Chattanooga, TN. "Growing up in Georgia, I knew I wanted to return home to start my practice as a general pediatrician. During residency, I recognized the gap in medical education on breastfeeding and sought additional insight through rotations with lactation consultants. Pediatricians are truly best suited to guide new mothers through the challenges of breastfeeding. There are still many misconceptions about breastfeeding, and often families are unsure where to go for assistance. It brings me such joy to help these parents troubleshoot their issues and achieve their goals, both short and long-term. This program helped me expand my knowledge base even further to better serve my patients." said Dyer.
Daphne Esho, MD, Hometown Pediatrics, Watkinsville, GA. "I have an interest in lactation medicine and breastfeeding and became even more passionate about it after having my children. I love when I am able to encourage and help moms reach their goals as it relates to breastfeeding. The Breastfeeding-Friendly Pediatrician Program has been a great resource in not only my daily practice of medicine but also the other providers in the office, as we shift to make the culture of our office more breastfeeding-friendly." said Esho.
Sylvia Washington, MD, Floyd Primary Care Pediatrics. "I hold the position of Chair of the Department of Pediatrics at Floyd Medical Center. I also serve as the local site director for the Reach Out and Read Program. Additionally, I am honored to represent District 1 as the District 1 Representative for the Georgia Chapter of the American Academy of Pediatrics. I received my Bachelor of Science degree in Biology from Howard University in 2003 and went on to earn my Medical Doctorate from Rutgers-New Jersey Medical School in 2007. Following that, I completed my internship and pediatrics residency at Mercer University in 2010. Throughout my career, I have been recognized with several prestigious awards, such as Floyd's Physician of the Year Award in 2018, Rome Life Magazine's Twenty Under Forty in 2019, and the Georgia Chapter of the American Academy of Pediatrics' Young Physician of the Year in 2019. On a personal note, I am happily married to Dr. Marcus Washington, and together we have been blessed with three children: Christian, Daniel, and Stephanie. I take great pride in the fact that I breastfed each of my children for the first year of their lives. As a strong advocate and supporter of breastfeeding, I aim to encourage and empower all breastfeeding mothers." said Washington.
Read the full press release here.