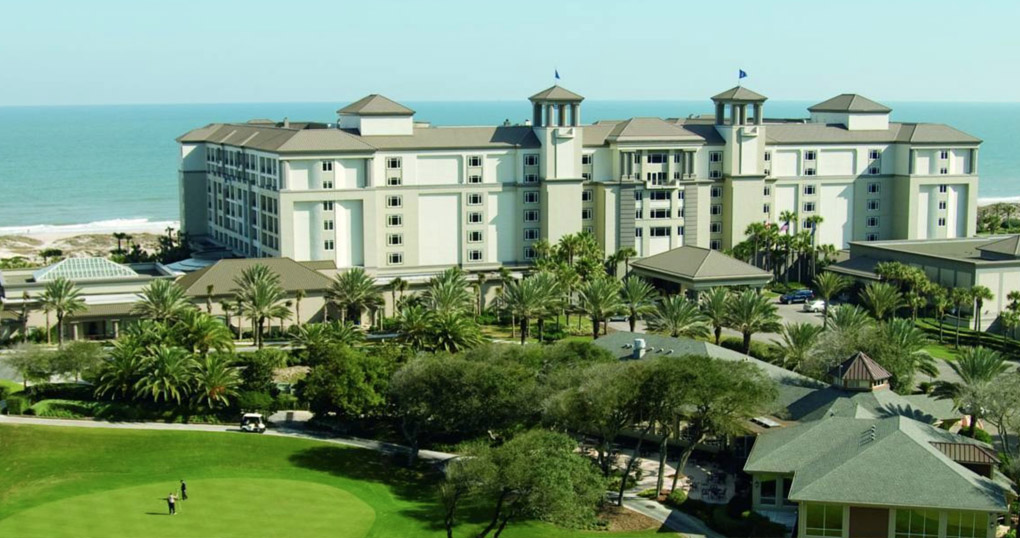 June 17-20, 2020
Pediatrics by the Sea is the Georgia AAP's Summer CME Meeting on Practical Pediatric Topics & Pediatrics Coding Conference.
Conference Educational Goals
The Georgia Chapter of the American Academy of Pediatrics (Georgia AAP) Continuing Medical Education (CME) program aims to develop, maintain, and improve the competence, skills, and professional performance of pediatricians and pediatric healthcare professionals. Pediatrics by the Sea strives to meet participants' identified educational needs and support their life-long learning by providing quality, relevant, accessible, and effective educational experiences that address gaps in professional practice and improve patient outcomes. The Georgia AAP is committed to excellence and innovation in education.
As a result of attending this activity, learners will be able to:
Practice evidence-based, informed pediatric medicine.
Apply current techniques and procedures.
Advocate effectively for issues related to children's health.
Demonstrate change in competence, performance or patient outcomes.
CME Information
The American Academy of Pediatrics – Georgia Chapter is accredited by the Medical Association of Georgia to provide continuing medical education for physicians. The American Academy of Pediatrics – Georgia Chapter designates this live activity for a maximum of 18.25 AMA PRA Category 1 Credits™. (Number of credits to be determined)
Physicians should claim only the credit commensurate with the extent of their participation in the activity.
Nursing Contact Hours
This activity will be submitted to Georgia Nurses Association for approval to award contact hours. Georgia Nurses Association – Approver is accredited as an approver of continuing nursing education by the American Nurses Credentialing Center's Commission on Accreditation.
Who Should Attend
Pediatrics by the Sea is open to all pediatricians, residents, pediatric nurses, nurse practitioners, physician assistants, family physicians, medical students, and other child healthcare professionals.
Pediatrics by the Sea is a Green Meeting
Pediatrics by the Sea conference attendees will receive electronic versions of the speakers' handouts via email two weeks prior to the meeting. Participants can pre-print handouts from the web site, or, bring their device to the session. (Note: Wi-Fi will be available in the meeting areas, and attendees who bring their device can sit in the "Green Zone" in the session where electrical connections will be available.) No Printed Handouts or Syllabus will be available. Join us in our environment-friendly effort.
Welcome to Amelia Island
Amelia Island offers visitors an unspoiled setting for relaxing and rewarding stays. Thirteen miles long and two miles wide, the northern and southern tips of the Island are park preserves which make up nearly 10 percent of the entire Island. Surrounded by the Atlantic Ocean, Intra-coastal Waterway, Nassau Sound and one of the East's largest and deepest inlets – Cumberland Sound – Amelia Island is edged with natural Appalachian quartz beaches and framed by dunes as high as 40 feet.
Amelia Island's small size belies the host of activities she offers her guests. From golf and tennis at world-class resorts to kayaking, sunset sails and horseback riding on the beach. The Island offers all types of accommodations, restaurants and shops to meet the needs of the most discriminating traveler or budget-minded family. The Island is home to Florida's only spoken history museum.
The island is located adjacent to the historic community of Fernandina Beach, Fla. For more information about the Amelia Island & Fernandina Beach area visit www.ameliaisland.org.
The Ritz-Carlton
Find yourself in the place where Southern charm meets the sea and live oaks meet white sandy beaches. One of the most popular beach destinations on the East Coast, this barrier island resort provides a welcome barrier between you and the world beyond.
Located on a grand stretch of the island's 13 miles of coastline, The Ritz-Carlton, Amelia Island is a AAA Five Diamond hotel and was ranked as one of the top 100 hotels in the US by Travel & Leisure Magazine, and one of the top rated family resorts in the country (see below).
It features well-appointed guestrooms, including club rooms & suites; four restaurants and lounges; The Ritz-Carlton Spa; a fitness center; nine ocean side tennis courts, & 18 holes of PGA championship golf at its front door.
To reserve your room at our specially arranged rates, please call 904-277-1100 or 888-239-1217.  Rates are $329 a night for a single or double Coastal View Room, Tuesday thru Saturday.  Please call and mention that you are attending Pediatrics by the Sea.  Reservations can also be made online at:
https://book.passkey.com/go/PedsBytheSea2020
As of February 17, 2020 the room block with special rates is SOLD OUT. 
For more accomodation options, click here.
Receptions
There are two receptions at Pediatrics by the Sea for your enjoyment. On Thursday, we'll have our Welcome Reception and on Saturday night, the President's Reception. These events are for all attendees, exhibitors, & their guests.
Bring the Kids Along!
The Ritz-Carlton at Amelia Island was rated Top 10 Child Friendly Resorts in USA by Child Magazine. The Ritz Kids program offers a variety of supervised physical and creative activities designed especially for children aged 5-12. Offering full or half-day options, seven days a week, Ritz Kids has something for every child.
Attire
CME sessions are summer business casual. (You may want to bring a jacket or sweater as the meeting rooms are sometimes cool due to the air conditioning.) Attire for the evening receptions is resort casual.
How Do I Get There?
Access by Car: From I-95 – Take I-95 to Exit 373 (old 129), turn east onto A1A, travel 15 miles crossing the Intracoastal Waterway onto Amelia Island and follow signs to the Ritz-Carlton.
Arriving by Air: Less than 30 minutes from Amelia Island, Jacksonville International Airport (JIA) links Northeast Florida with cities across the United States and abroad. Several major carriers service Jacksonville.
5K Fun Run & Walk
Now a PBS tradition, join Evelyn Johnson, MD, Chair of the Chapter's Healthy Weight Task Force, for the Chapter's Annual PBS Run/Walk event Saturday, June 20. Meet at the Ritz-Carlton lobby to run or walk (5K/3.1miles) on picturesque white sandy beach.
Special Requirements
If you have physical or dietary needs, which require accommodation to fully participate, please indicate on your registration form or call the Chapter Office.
Wednesday, June 17
1:00 – 2:00 pm
Registration Open
2:00 – 5:00 pm
Pediatric Infectious Disease & Immunization Seminar Immunizations & the Anti-Vaccine Crisis
Moderator: Leila Stallworth, MD
2:00 – 2:05 pm
Welcome, Goals & Objectives
2:05 – 2:20 pm
Infectious Disease & Immunization:  State of the State in Public Health
2:20 – 3:05 pm
Vaccine-Preventable Diseases You Haven't Seen
Evan Anderson, MD
3:05 – 3:20 pm
Break
3:20 – 4:05 pm
Combating Vaccine Hesitancy:  CDC's New Vaccinate with Confidence Initiative
Sarah Mbaeyi, MD, MPH
4:05 – 4:50 pm
Measles is Back: What Pediatricians Should Know
Walt Orenstein, MD
4:50 – 5:00 pm
Question & Answer Session / Panel Discussion
5:00 pm
Adjourn
Thursday, June 18
8:15 – 9:00 am
Registration Open/Continental Breakfast
9:00 am – 12:00 pm
Practice Management Seminar
Moderator: Ben Spitalnick, MD & Ross MacLeod, MD
9:00 – 9:15 am
Welcome & Introductions
9:15 – 10:00 am
Challenging Times in The Healthcare Payment Environment: Working Together to Create Pediatric Value
Susan Kressly, MD
9:30 – 10:30 am
Pediatric Coding Updates You Don't Want to Miss
Jeannie Cagle, CPC, RN
10:30 – 10:45 am
Break
10:45 – 11:30 am
The EHR Balancing Act: How to Effectively Utilize Your EHR While Minimizing Disruption at the Point of Care
Susan Kressly, MD
11:30 am – 12:00 noon
Question & Answer Session
12:00 noon
Adjourn
1:30 – 4:30 pm
Trauma Informed Pediatrician Seminar
Moderator: Lisa Leggio, MD
1:30 pm
Welcome & Introductions
1:30 – 2:15pm
Adverse Childhood Experiences & Trauma in Pediatrics
April Hartman, MD
2:15 – 2:45pm
Recognizing & Screening for Trauma in the Primary Care Practice
April Hartman, MD & Christopher F. Drescher, PhD
2:45 – 3:00pm
Break
3:00 – 3:45pm
Understanding the Impact of Racial Trauma
April Hartman, MD
3:45 – 4:30pm
Childhood Trauma Identified. Now What Do I Do?
Christopher F. Drescher, PhD
4:30 – 4:45pm
Question & Answer Session
April Hartman, MD & Christopher F. Drescher, PhD
4:45 pm
Adjourn
6:00 – 7:15 pm
Welcome/Opening Reception
Friday, June 19
7:00 am
Registration Opens/Continental Breakfast/Exhibits Open
8:00 – 8:15 am
Welcome
Valera Hudson, MD & Lisa Leggio, MD, Program Co-Chairs
8:15 – 9:00 am
LGBTQ Pediatric Patients: Challenges, Opportunities, & Resources
Christopher F. Drescher, PhD
9:00 – 9:45 am
Update on Treatment of Eczema
Teresa Wright, MD
9:45 – 10:15 am
Break
10:15 – 11:00 am
Post ICU Syndrome: Why it's not just about "Staying Alive"!
Smitha Mathew, MD
11:00 – 11:45 am
Update on Pediatric Headaches & Migraines
Chris Oakley, MD
11:45 am – 12:00 pm
Update from the President of the American Academy of Pediatrics
Sara Goza, MD
12:00 pm  
Adjourn Morning Session
(Lunch on your own)
1:30 – 2:45 pm
Afternoon Workshop: CATCH: Community Pediatricians, Projects, & Grant-Writing
Katherine Duncan, MD, Lillianne Lewis, MD, Sylvia Washington, MD, & Rebecca Pierce, MD
1:30 – 3:00 pm
Afternoon Workshop: No More Kicking & Screaming: A Positive Approach to Calming Healthcare Jitters
Robert Pendergrast, MD & Kate Burgner, APRN, FNP-C
3:00 – 4:00 pm
Afternoon Workshop: New AAP Guidelines on Autism and ADHD: What Pediatricians Need to Know
Moderator: Marshalyn Yeargin-Allsopp, MD
Georgiana Peacock, MD
Saturday, June 20
7:00 am
Registration Opens/Continental Breakfast/Exhibits Open
8:00 – 8:30 am
Georgia Chapter Business Meeting (Open to all attendees)
8:30 – 9:15 am
Life at All Costs: An Erosion of Beneficence in an Age of Increasing Parental Autonomy
Paul Mann, MD
9:15 – 10:00 am
Management of Pediatric Seizures
Chris Oakley, MD
10:00 – 10:30 am
Break
10:30 – 11:15 am
Pediatric Tympanostomy Tube Update
John Drew Prosser, MD
11:15 – 12:00 pm
Update on Treatment of Acne
Teresa Wright, MD
12:00 pm
Adjourn Morning Session
(Lunch on your own)
1:30 – 2:30 pm
Afternoon Workshop: Pediatric Office Emergencies: What to do when a Disaster Shows up in your Waiting Room
Smitha Mathew, MD & George Hsu, MS, MD
1:30 – 2:45 pm
Afternoon Workshop: Uh-oh . . . You Have a Learner . . . Now What?
Teach Without Slowing the Clinic Flow
Lisa Leggio, MD & Rebecca Pierce, MD
6:00 – 7:30 pm
President's Reception
Why Exhibit at Pediatrics by the Sea?
More than 200 decision-makers attend Pediatrics by the Sea annual meetings: Great one on one time with pediatricians at breaks, receptions, & the beach.
Be part of the premier meeting for pediatricians in Georgia:
Pediatricians from Georgia & other states attend Pediatrics by the Sea, Georgia AAP's Annual Summer Meeting because we offer quality educational seminars, sessions, & workshops.
Who Attends the Georgia AAP
Annual Meeting?
Over 200 Pediatricians!
Pediatricians in private & group practices over 200 attendees.
Other pediatric specialists
Other allied health, office managers, & nurses
Register by May 29, 2020 to receive prime exhibit location!
Don't Miss the Premier Networking Event for Pediatrics in Georgia!
Platinum Level •$5,100
One 6-ft table skirted for a tabletop display and superior position:
Attendee brochure listing
Post-convention attendee mailing list
Pre-Registration list and on-site program listing
Full-Page Ad in the On-site program (Must be in by May 29, 2020)
Exhibit staff badges (four total badges per exhibit)
Recognition on meeting signage
Two chairs
Gold Level • $3,600
One 6-ft table skirted for a tabletop display and premium position.
Attendee brochure listing
Post-convention attendee mailing list
Pre-registration list and on-site program listing
Half-Page Ad in the On-site program (Must by in by May 29, 2020)
Exhibit staff badges (four total badges per exhibit)
Recognition on meeting signage
Two chairs
Silver Level ($2,600)
One 6-ft table skirted for a tabletop display and prime position.
Attendee On-site program listing
Post-convention attendee mailing list
Exhibit staff badges (four total badges per exhibitor)
Recognition on meeting signage
Two chairs
Bronze Price • $1,900
One 6-ft table skirted for a tabletop display includes:
Attendee On-Site program listing
Post-convention attendee mailing list
Exhibit staff badges (four total badges per exhibit)
Two chairs
Ad Specifications
Ad proofs for the On-site program are due by May 29, 2020
Ad sizes
Full Page…… 7.5 x 10 in
Half Page……. 7.5 x 4.8 in
Register for the Conference