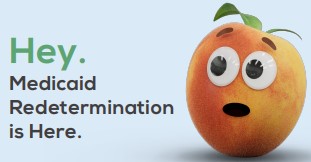 We have learned that the Georgia Medicaid Management Information System (GAMMIS) will now be including a member's date of redetermination within the
Member ID Information
listed when checking a member's eligibility. As shown in this
screenshot,
the "
Redetermination Date
" is listed under the field titled "
Gender
" in the second column in the right-hand portion of the screen.
If the redetermination date is coming up, encourage your patient's families to log on to the Gateway website at gateway.ga.gov to be sure their contact information e.g., phone number, mailing address, etc., is correct and up to date.
Families can also visit www.staycovered.ga.gov to learn more about the redetermination process.
If the redetermination date is a date in the past and the child is listed as ineligible, but the family believes their child should still be eligible, encourage families to contact their local DFCS office to see how they can appeal this decision. In general, families can request a Fair Hearing within 30 days from the date of denial if they feel that the denial decision was an error.
As a reminder, be sure to screen shot confirmation of a child's eligibility on the date of service to ensure payment of services provided. This flyer and coloring sheet from www.staycovered.ga.gov can help explain this process to families. Information for speakers of other languages is also available on the website.
What does this mean for you and your patients?