Georgia Department of Behavioral Health and Developmental Disabilities (DBHDD) manages programs and services delivered by community-based behavioral health providers. One example includes the local Community Service Board (CSB). The CSBs are state-designated agencies that provide a safety net of mental and behavioral health services.
The Georgia AAP has partnered with DBHDD to strengthen and enhance the working relationships between Pediatricians and their local CSB in a project we call Behavioral Health Too! The project ensures pediatricians are part of the System of Care, which focuses on how community-based services and support delivery systems can work together to support children and families with or at risk for mental health needs or other challenges.
Key goals of the project include: 1) promoting the SOC and highlighting family and youth peer support, 2) bringing awareness of mental health resources and supports such as CSBs, and 3) increasing bi-directional communication to improve health outcomes.

Addiction Services

Behavioral Health Assessments

Case Management and Skill Building

Crisis Intervention

Diagnostic Assessment

Individual, Family and Group Counseling

Peer Support Services

Psychiatric Evaluation
* Age at which these services are provided may vary. Contact your CSB to see if these services are provided to children & adolescents.

Addiction Treatment & Support

Assertive Community Treatment (Act)

Behavioral Health Crisis Service

Crisis Stabilization Units

Intensive Case Management
I

ntensive Family Intervention Prevention Services

Mobile Crisis

Housing

Peer Wellness Centers

Psychological Rehabilitation

Supported Employment

Youth Clubhouses
* Availability of these services will vary per CSB.
Contact your local CSB to see if a speciality service is provided.

Each CSB individually contracts with public payors such as Medicaid (e.g. Amerigroup, CareSource, & Peach State) and Medicare.
Many CSBs accept private insurance but will vary; contact your CSB to determine if private insurance is accepted. Phone number to your local CSB can be found below.
Individuals not covered by public or private insurance will be asked to pay an amount on a sliding fee scale based on income. Contact your CSB for more details.

Helping the family complete a Release of Information (ROI) form for both your practice and the CSB can ensure bidirectional communication regarding:
Progress notes
Laboratory services
Treatment plans
Medication management
Providing and exchanging relevant medical information to the CSB can help you continue to manage the healthcare needs of your patient. The patient or parent/guardian must specify the type of information to be shared*.
* A Therapist's personal notes of a therapy session are protected under HIPAA and cannot be disclosed.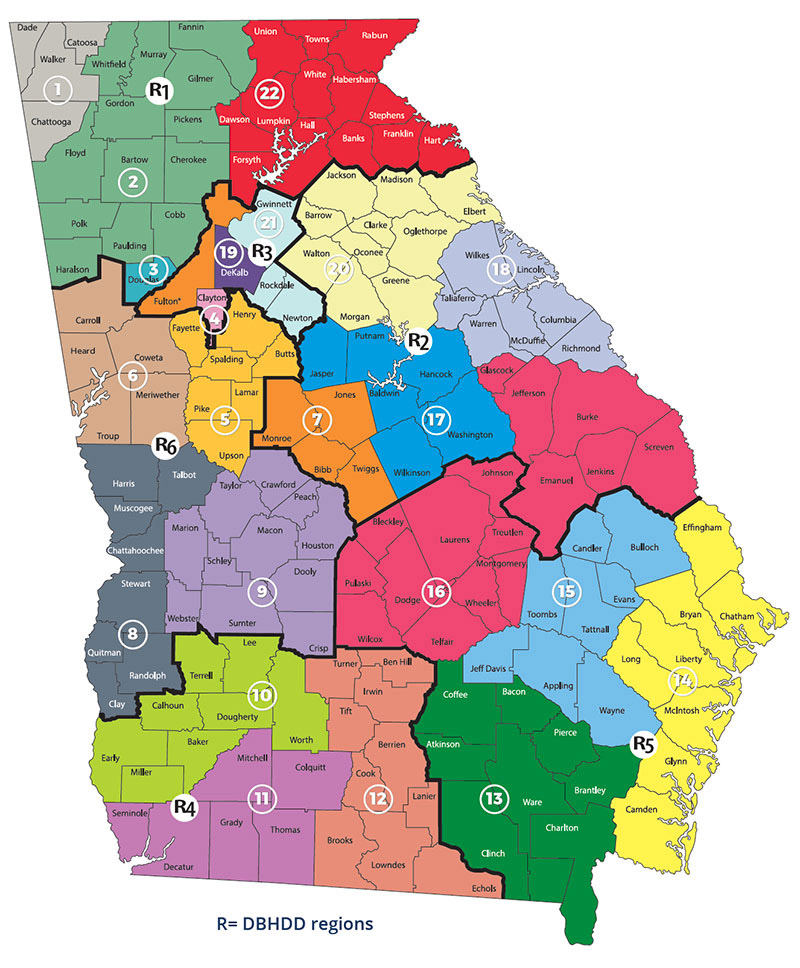 Contact
For immediate access to routine or crisis services related to mental health or substance use, please call the Georgia Crisis and Access Line (GCAL) at 1-800- 715-4225 or download My GCAL app to access GCAL via text and chat. GCAL is available 24 hours a day, 7 days a week and 365 days a year to help you or someone you care for in a crisis.
-OR-
You can still access these numbers for help: Crisis Lifeline: 1-800-273-8255 Dial, text, or chat 9-8-8. For more information visit 988ga.org
GCAL & 9-8-8 Professionals Will
Provide crisis intervention services over the phone
Assist individuals in finding an open crisis or detox bed in Georgia
Dispatch mobile crisis teams where appropriate
Link individuals with behavioral health services

Community Service Boards (CSB's) in Georgia